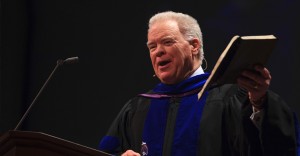 Come and join us at Woodland Baptist Church on Saturday, October 10th @ 11am for an exciting time of Q & A with one of our most committed leaders in the Southern Baptist Convention, Dr. Paige Patterson, President of Southwestern Baptist Theological Seminary.
The "Lion's Den," is an open forum with Dr. Patterson to ask him any question you want to, face to face, about theology,  the Bible, or anything else pertaining to the faith.
At 12pm, we will end the Q&A and attend the Lion's Den spaghetti luncheon in the fellowship hall of Woodland Baptist.  The luncheon is free but you MUST RSVP as seating is limited.  You may register here, it only takes about 30 seconds lionsdenluncheon.eventbrite.com
After the luncheon Dr. Patterson will be available for book signing (there will be a book table) and personal fellowship with Dr. Patterson.  He will also be preaching our Fall Revival, Friday, October 9-11, 6:30pm and at 10am on Sunday morning only.