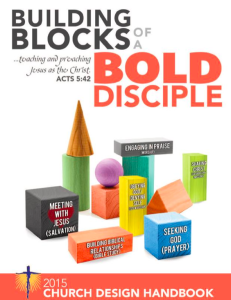 Come and join us for our third "Building Blocks of a Bold Disciple" emphasis this Sunday.  Our Pastor, Shelby Hazzard and our Music Minister, Randy Comer will help us to understand the importance of "engaging in praise and prayer," and how this affects our spiritual life and progression in discipleship.
Remember that our schedule is different during these 4 weekends at our church.
9:00-9:30am – Church wide breakfast in the gym
9:30-10:15am – Large group session in Sanctuary as we get congregational input on the two topics
10:30-11:40am – Worship Time
5:00pm – Showing of the movie, "Monumental" with Kirk Cameron followed by a time of discussion about our country's moral breakdown.