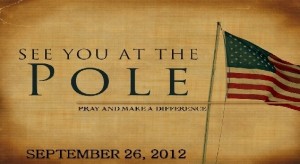 See You at the Pole Rally Information
Our Youth Minister, Bro. Brad Wright will be at Caledonia High School flagpole at 7:00am and then again 6:00pm for the Rally in the Middle School Gym.
Our Bible study time will be dismissed tonight as we will be traveling together as Woodland Baptist on the church van at 5:30pm to Caledonia Middle School Gym for SYATP to support our students and Bro. Brad.
For questions, please call church office 327-6689.