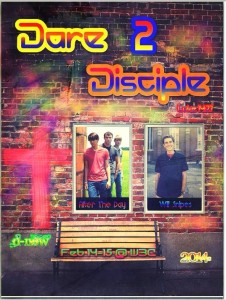 Come and experience a life changing time of preaching, teaching and fellowship in the Word of God with Christian leaders from five different churches in the Golden Triangle, plus our special worship leaders and speaker.  
God is seeking the next generation of world changers to be transformed into disciples and then to go and be transformational.  Could he be calling you?  That question is easy to answer, YES HE IS!!  But the bigger question is…will you ANSWER THE CALL?  AND….
DARE TO BE A DISCIPLE OF JESUS CHRIST????
6:00pm – Check in the front foyer (WBC students put your bags in the Choir Room).
---
6:15pm – Meet with college students (Youth Room)
---
6:30pm – Supper (Meal/Open Door in gym. 
---
7:20 – Discipleship Countdown 
---
7:30pm – Worship – After the Day
---
Video – This is Discipleship
---
8:30pm – Speaker – Wil Snipes / 
Definition of a Disciple (Sermon)
---
9:30pm – Head To Host Homes
---
10:00pm – Session 1 (Small Groups)
Saturday Morning
7:00am- Breakfast In Home
---
8:10am – Video The Cost of Being a Disciple

---
8:15am – Worship –  After the Day
---
8:45am – Speaker – Wil Snipes / Cost of Being a Disciple (Sermon)
---
9:15am – Scavenger Mission Hunt (Still working on details)
---
12:30pm-2:30pm – Finish Project
---
2:30pm – Head to host homes 
---
3:00-5:45pm – Clean Up & Session 2 (Small Groups)
---
7:00pm – Worship – After the Day
---
8:00pm – Speaker – Wil Snipes / Fruit of Being a Disciple
---
9:15pm – Head to host homes 
---
9:45pm – Session 3  (Small Groups)
9:00am – K.K. Doughnuts in the youth room
---
9:30am – D-Now Table Talk