After Thessalonica erupts under the weight of the preaching of Christ and Jason is arrested and forced to post bond money, Paul and Silas are immediately sent on their way to Berea, 45 miles West.  As soon as they arrive in Berea, they go directly to the synagogue and begin to minister.  Talk about faithfulness!!
Luke describes thes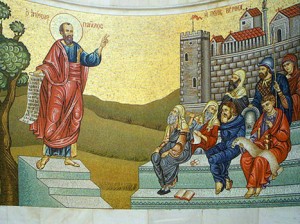 e Jews as "noble" as they "examine daily" the Scriptures to determine whether or not Paul is teaching the truth.  After many days of examining the Scriptures, many of the Jews are convinced that Christ is truly the promised Messiah sent from their God.  Many Gentile men and woman also recieve the gospel, professing Christ.  But…as usual, the unbelieving Jews from Thessalonia [most likely Judaizers or related to them] hear that Paul has escaped to Berea, probably through knowing people in the community, and they immediately go to work to try to derail the missionaries' preaching and teaching ministry.  These persecuting Jews are successful as they "agitate and stir up" the Bereans and Paul is forced to leave again and head to Athens while the majority of his travel companions stay behind.
Probably the most notable fact in this passage is how Paul describes the Jews that "examine daily" the Scriptures.  He describes them as "noble."  Why?  Because they were discerning, not rushing to judgment, but listened intently and deeply searched out the Scriptures to try to understand what Paul was saying.
It is interesting that through the thousands of years of history past, many churches will describe themselves as "Bereans," meaning that they too, are as the Bereans were, always examining the Scriptures, making every effort to preserve and understand its fullest meaning.
So, how are you doing with "examining the Scriptures daily?"  You will NOT grow as a Christian and you will NOT multiply yourself if you are not digging into and absorbing the life changing word of God on a daily basis.  Click the link and study the Word!  June 20, 2012 – Acts 17, 10-15 – Berea Notes final