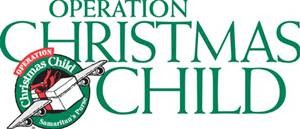 Woodland Baptist Family, every year we work together to share Christ's love in the form of sending Operation Christmas Child boxes to needy children all over the world.  This year, we are making it a church wide project to be done Wednesday night, October 28th.
For this happen, we need our folks to contribute funds to purchase the products to go in the boxes ($20-30) plus the shipping fee of $7.00. 
Our goal is to ship 62 boxes, one per AWANA clubber, and so far combined with VBS money, we have enough for 34 boxes (half way there!).  So please help us to reach our goal of 62 boxes by this Sunday. 
Make your check to payable to Woodland Baptist as we are purchasing the supplies to put in the boxes, then next Wednesday night we will all come together to have a packing party!!!