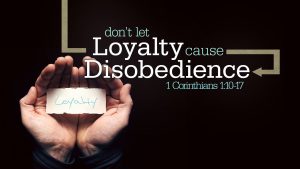 10 I appeal to you, brothers, by the name of our Lord Jesus Christ, that all of you agree, and that there be no divisions among you, but that you be united in the same mind and the same judgment. 11 For it has been reported to me by Chloe's people that there is quarreling among you, my brothers. 12 What I mean is that each one of you says, "I follow Paul," or "I follow Apollos," or "I follow Cephas," or "I follow Christ." 13 Is Christ divided? Was Paul crucified for you? Or were you baptized in the name of Paul? 14 I thank God that I baptized none of you except Crispus and Gaius, 15 so that no one may say that you were baptized in my name. 16 (I did baptize also the household of Stephanas. Beyond that, I do not know whether I baptized anyone else.) 17 For Christ did not send me to baptize but to preach the gospel, and not with words of eloquent wisdom, lest the cross of Christ be emptied of its power.
Some communistic countries have gone so far that they deify their leaders. Most recently, the preserved body of Hugo Chavez was put on display so that the people of Venezuela could continue to see him and visit his grave, some of whom worship him. Vladimir Lenin and Joseph Stalin's bodies were treated the same way, preserved and put on display for the Russian people. North Korea did the same with Kim Il-sung and Kim Jong Il.
During New Testament times, Cornelius, a centurion of the Italian Cohort, was visited by the Apostle Peter. When Cornelius opened the door and saw Peter, he fell down and worshiped him. Peter immediately pulled him up and told him that he was a man just like him and not to worship him.
Christians worship one leader, Jesus Christ, the Son of God. If there was ever a people on earth that should not fall into leader idolatry it should be Christians. The church in Corinth was divided over allegiance to human leaders and not Christ.