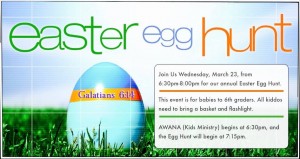 COME JOIN US TONIGHT FOR SOME INTENSE ACTION! AWANA PLUS AN EASTER EGG HUNT IN THE DARK!!
CHECK OUT THE PICTURE!
ADULTS WILL JOIN IN THE FUN TO SUPPORT THE KIDS!
6:00-6:30 – CHECK IN CHILDREN GO TO SANCTUARY
6:30-6:40 – AWARDS TIME
6:40-7:10 – HANDBOOK TIME IN SUNDAY SCHOOL HALL (ADULTS HAVE PRAYER)
7:10-7:30 – BACK TO THE SANCTUARY – GO HUNT!
7:40-8:00 – REDEMPTION ROOM FOR YOUR PRIZES